Registered Polled Herefords in the North Georgia Mountains
Ken Entrekin grew up helping his grandfather care for "white face" cattle on his farm in Carrollton, GA. His Dad continued on with Hereford cows after his granddaddy's death. His wife Sue also grew up on a farm with herefords near Carrollton.
After graduating from Georgia Tech and many years in the business world, Ken was able to realize his dream of having his own cattle farm. And, since he and Sue had chosen their second home in the rolling hills of the North Georgia mountains, this is where they started their farm. We believe that a field of Hereford cattle is a beautiful site.
They had first gotten into livestock in Hiawassee, GA in 2008 with an alpaca farm. Daughter Angela and her family wanted to see what life on the farm was like, and that is how the adventure began. A few years later, the alpacas were sold, Angela and her family had moved back to Atlanta, and cows were purchased – Registered Polled Hereford cows.
And, Twin Creeks Mountain Farm was formed – the third generation of Hereford cattle. We chose Herefords due to the family history, the beauty and heartiness of the breed.
Ken and Sue had met Roger Ledford about this time while he was working on projects around their Little Barn. Ken, Sue and Roger decided that they wanted to get into the cattle business more seriously than the initial cows. So, TCMF bought a 35 acre farm in Young Harris. That is where the Big Barn is (12,000 sq. ft.) – large enough for hay storage, shop, stables, and cattle working equipment. The farm grew to about 30 animals in both of those locations.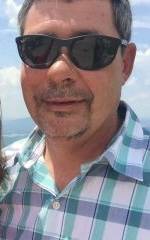 Later, a 100 acre farm across the road came available for lease, and this also became part of the Twin Creeks Mountain Farm. Another barn and cattle working equipment were part of the deal. Today, there are over 75 Registered Polled Herefords, and with calves coming the total will soon be over 100 head. Roger lives in Hiawassee. Ken & Sue still reside during the week in Midtown Atlanta, while working the farm on weekends, and more during hay cutting and calving season. Ken plans to retire from his business in Atlanta at the end of 2020, and will devote more time to TCMF.
We have several hay fields and bale our own hay. The Big Barn has storage capacity for over 300 round bales.
Roger manages the farm, and oversees all of the daily business and operations. Roger and Ken spend time planning for all the pastures, fences, breeding, equipment, projects, etc. Sue does the bookkeeping and helps with the grass and hay. Ken keeps up with all of the cows breeding, history, genetics, health and financial records using CattleMax software.
Twin Creeks uses Artificial Insemination to improve our herd's genetics, low calf weight and a great look. We are using some of the finest bulls around to Sire our calves. Our goal is to have some of the highest quality Registered Polled Herefords in The Southeast. We want Hereford beef to be recognized as the best.